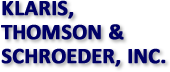 Business Valuation & Consulting Professionals
Los Angeles • St. Louis • Chicago Philadelphia • Tampa • Washington D.C.
KLARIS, THOMSON & SCHROEDER, INC. Locations
Midwestern Region

Waterloo, IL
220 Bradford Lane
Suite A
Waterloo, IL 62298
Phone: (618) 939-5255 | Toll Free: (800) 587-1631
Fax: (618) 939-5256
E-mail: gschroeder@ktsvaluation.com
bbollinger@ktsvaluation.com
Contact: Gary L. Schroeder, ASA
Brad Bollinger, ASA

Chicago, IL 60053
Phone: (847) 577-0802
E-Mail: info@ktsvaluation.com

St. Louis, MO
P.O. Box 515118
St. Louis, MO 63151
Phone: (314) 739-1000
Fax: (314) 739-1441
E-mail: lwaller@ktsvaluation.com
nmatheny@ktsvaluation.com
bblase@ktsvaluation.com
Contacts:
Luke A. Waller, ASA
Nancy J. Matheny, CPA/ABV, ASA
Brian Blase, BA

Western Region

330 Golden Shore Drive
Suite 200
Long Beach, CA 90802
Phone: (562) 437-6000 | Toll Free: (877) 587-7008
Fax: (562) 437-6180
E-mail: John Thomson or his assistant at: ktsinc@verizon.net
cthomson@ktsvaluation.com
thollingshead@ktsvaluation.com
Contacts: John A. Thomson, ASA, MAI
Anita Thomson Graham, BA, MA
Christine Thomson Lee, MBA, ASA
Todd F. Hollingshead, ASA
Anthony Abel
Maureen Dearden, ASA

Eastern Region

Sewell, NJ
145 Rabbit Run Rd.
Sewell, NJ 08080
Phone: (856) 256-1950
Fax: (856) 256-1975
E-mail: ldisilvestro@ktsvaluation.com
agochman@ktsvaluation.com
mcama@ktsvaluation.com
Contacts: Louis DiSilvestro, ASA, CFA
Alan M. Gochman, CPA, ASA
Mark Camma, CPA

Rockville, MD
10714 Pine Haven Terrace
Rockville, MD 20852
Phone: (301) 881-8360
Fax: (301) 881-8361
E-mail: rstramberg@ktsvaluation.com
dbraunstein@ktsvaluation.com
Contacts: Ron A. Stramberg, ASA
Douglas E. Braunstein, JD, ASA

Southeastern Region

Tampa, FL 33634
Phone: (813) 978-1804
Fax: (813) 978-1540
E-mail: gschroeder@ktsvaluation.com
Contact: Gary L. Schroeder, ASA
We're Here to Help
Klaris, Thomson & Schroeder, Inc. has a nationwide network of credentialed business valuation consultants. We provide expert business appraisal and consulting services in taxation, litigation, transaction, and regulatory compliance matters.